BALINESE CULTURE
Assignment 1: Day 1                                                              Alexandra Crisp: 21301026

My experience today at the Pura Campuhan Windhu Sagara Temple in Padang Galak was unique, personal and confronting. I was overwhelmed by the gathering of hindu locals, the vibrant colours of the offerings, the smells of burning inscents and the humble yet quick-spoken chants of the ritual leaders, or Permangku. (Those who poured cleansing water over people).
On arrival, it was obvious how special the 'full moon ceremony' was in traditional Balinese Hindu culture. As I am not a religious person, this ceremony was beyond anything I have ever experienced before. Although a very up-front practice, the feeling of peacefulness and acceptance was warm and comforting which is a very reassuring feeling to have when staying in a foreign place.
Today opened my eyes to the meaning of traditions and respect. The routines of sipping water, facial cleansing, praying and water drenching were all conducted in lots of 'threes'. I believe this ties back to the Balinese way of the 'Tri-Hita-Karana".  The string bracelet was also made of three different coloured strings, each representing a different god (Sang Hyan Widhi, Vishnu and Brahma), this further symbolises the 'Tri-Hita-Karana' way of life and its significance to the people of Bali.
The number three is of great significance to me as I have always believed it has brought to me good fortune. For some reason, the fact that the number three is so important in the Hindu culture of Bali, makes me feel a little more spiritually connected.
Midst our lunch break it was even more apparent how socially and communally important the ceremony is, as numbers of locals appeared (all dressed up) to take part. The happiness and serenity of the Balinese people was enlightening and very joyful to watch. A highlight from today was when Matt took a group photograph with some of the local women, who were all flamboyantly dressed. After looking at the photo one of the women realised she had her mouth filled with mandarin. Immediately, Matt and the Balinese women cracked into hysterics. This was truly a moment representing the connection between 'human to human' (part of the 'Tri-Hita-Karana).
Today was a big turn-around in the way I view religion. I used to believe that some facets of religion are evil and caused war. However, after todays experience I can confirm that Balinese Hinduism is very peaceful and accepting. They are very satisfied, grateful and happy and seem only to wish the best for everybody and everything, not just to those of their own faith.

This is something the entire world could learn from.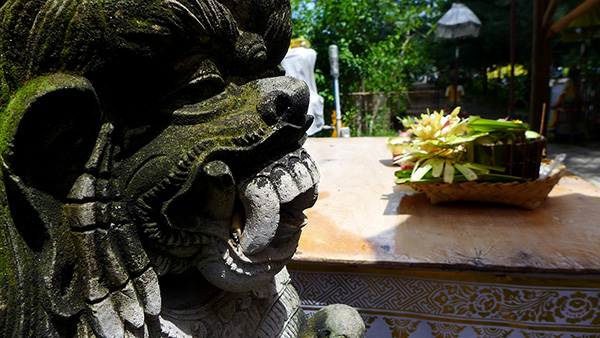 Hanoman bares his teeth at the Pura Widnu Campuhan Padang Galak, January 2015
©2017 PAUL TRINIDAD